Film
Kill Bill: la colonna sonora dei film di Tarantino
Kill Bill, capolavoro assoluto di Quentin Tarantino suddiviso in due capitoli, deve buona parte del suo successo anche a una colonna sonora eccezionale. Ecco tutti i brani degli album ufficiali e le canzoni presenti nei due film.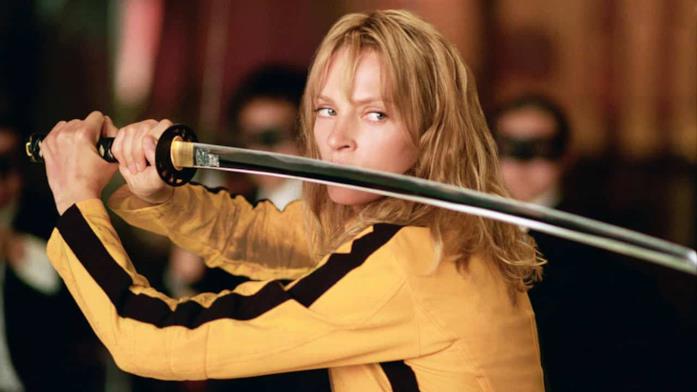 Kill Bill è il capolavoro cinematografico del maestro Quentin Tarantino con protagonista Uma Thurman suddiviso in due capitoli, Kill Bill: Volume 1 e Kill Bill: Volume 2.
L'opera narra di una donna, presentata allo spettatore semplicemente come "la Sposa", che viene massacrata di botte e colpita alla testa, il giorno del suo matrimonio, da un gruppo di spietate killer guidate da un misterioso uomo di nome Bill. Ogni membro della letale squadra ha come nome in codice quello di un serpente, e quello della Sposa era Black Mamba. Dopo ben quattro anni di coma, la Sposa riprende conoscenza ed è determinata a vendicarsi contro i suoi carnefici, trascinando lo spettatore in una scia irrefrenabile di sangue e vendetta che porterà, in Kill Bill: Volume 2, al confronto finale con Bill.
Kill Bill è considerato all'unanimità un cult intramontabile, non solo per la sceneggiatura curata da Tarantino che regala alcune fra le scene e i dialoghi più memorabili della storia del cinema, ma anche per una colonna sonora indimenticabile, che contribuisce a rafforzare la potenza visiva dell'opera.
Ecco nel dettaglio la colonna sonora di entrambi i film di Kill Bill.
Kill Bill: Volume 1 - la colonna sonora
Kill BIll: Volume 2 - soundtrack
Kill Bill: Volume 1
La colonna sonora di Kill Bill: Volume 1 ha come cavallo di battaglia l'immortale singolo Bang Bang (My Baby Shot Me Down), interpretato da Nancy Sinatra in un'inedita versione acustica. La cinepresa all'inizio del film mostra allo spettatore dei tacchi di stivali, la Sposa sporca di sangue distesa al suolo, dei lamenti, delle frasi solo abbozzate e un colpo di pistola indirizzato alla testa della Sposa, il tutto impreziosito dalla voce di Nancy Sinatra.
Oltre a Bang Bang ricordiamo anche il motivo Twisted Nerve di Bernard Herrmann, fischiettato da Elle Driver (Daryl Hannah) mentre si aggira per i corridoi dell'ospedale dov'è ricoverata la Sposa.
Queste sono solo alcune delle meravigliose tracce del film di Tarantino. Suoni e immagini si mescolano per dare vita a un'opera d'arte che entra nell'anima di chi osserva.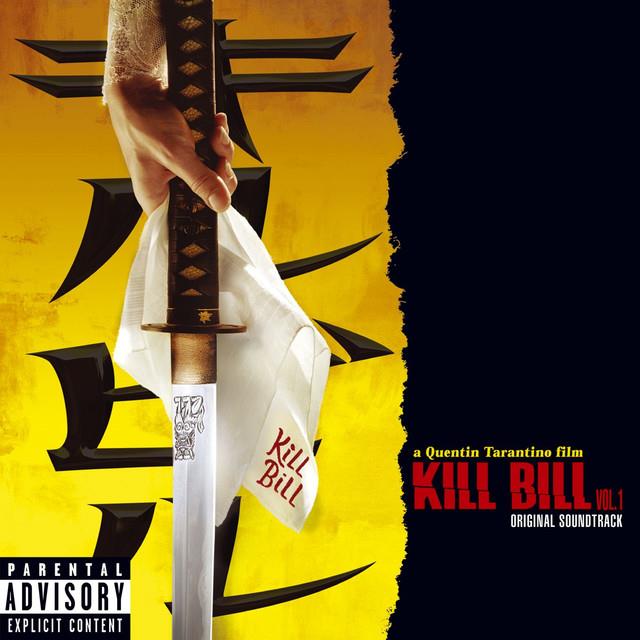 La tracklist di Kill Bill: Volume 1
Bang Bang (My Baby Shot Me Down) - Nancy Sinatra
That Certain Female - Charlie Feathers
The Grand Duel (Parte Prima) - Luis Bacalov
Twisted Nerve - Bernard Herrmann
(dialogo) Queen of the Crime Council - Lucy Liu e Julie Dreyfus
Ode to Oren Ishii - RZA
Run Fay, Run - Isaac Hayes
Green Hornet Theme - Al Hirt
Battle Without Honor or Humanity - Tomoyasu Hotei
Don't Let Me Be Misunderstood - Santa Esmeralda
Woo Hoo - The 5.6.7.8's
Crane/White Lightning - RZA e Charles Bernstein
The Flower of Carnage - Meiko Kaji
The Lonely Shepherd - Gheorghe Zamfir
(dialogo) You're My Wicked Life - David Carradine, Julie Dreyfus e Uma Thurman
Ironside (excerpt) - Quincy Jones
Super 16 (excerpt) - Neu!
Yakuza Oren 1 - RZA
Banister Fight - RZA
Flip Sting
Sword Swings
Axe Throws
Ascolta l'album Kill Bill Vol. 1 Original Soundtrack
Le canzoni aggiuntive presenti in Kill Bill: Volume 1
Kill Bill: Volume 1 è ricco anche di tracce provenienti da altre pellicole e media. Di seguito potete trovarle tutte.
Da uomo a uomo - Ennio Morricone
Truck Turner - Isaac Hayes
The Yagyu Conspiracy - Toshiaki Tsushima
Nobody But Me - The Human Beinz
I Walk Like Jane Mansfield - The 5.6.7.8's
I'm Blue - The 5.6.7.8's
I due campioni dello Shaolin; The Grand Duel MT.10 - Luis Bacalov
Armundo - David Allen Young
Wound That Eals (Kaifuku Suru Kizu) - Lily Chou-Chou
Music Box Dancer - Richard Abel
Sette note in nero - Vince Tempera & Orchestra
I giorni dell'ira - Riz Ortolani
Police Check Point - Harry Betts
Urami Bushi - Meiko Kaji
Kill Bill: Volume 2
Anche Kill Bill: Volume 2 eccelle in quanto a colonna sonora. Fra i brani più memorabili annoveriamo Goodnight Moon, interpretato dalla seducente voce di Ambrosia Parsley del gruppo Shivaree.
Il contributo del compositore Premio Oscar Ennio Morricone si rivela sempre preziosissimo nelle pellicole di Tarantino, e la sua musica scandisce una delle scene più intense del secondo capitolo di Kill Bill: la scena in cui la Sposa si libera dalla bara in cui è stata rinchiusa con la sola forza delle sue mani nude. Il brano che fa da sottofondo per l'ennesima fuga della protagonista da morte certa è L'arena di Morricone.
Nell'album sono presenti anche altre tracce realizzate dal compositore italiano e tutti i brani restanti riescono a colpire lo spettatore con la stessa intensità di quelli presenti nel primo film.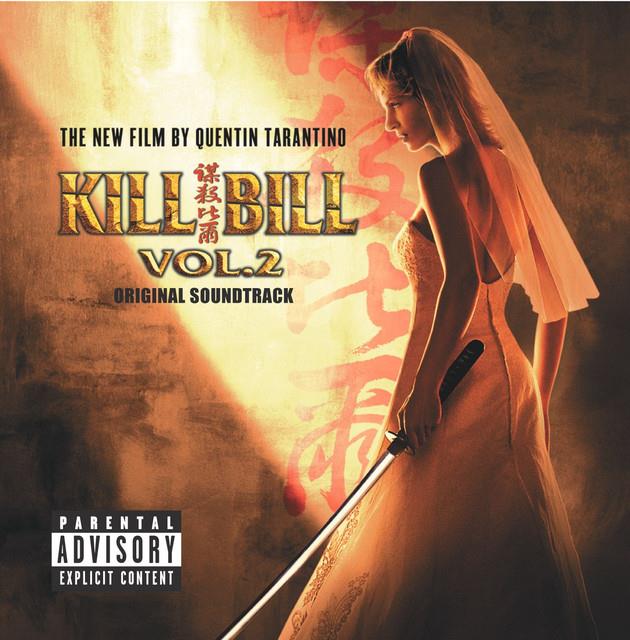 La tracklist di Kill Bill: Volume 2
A Few Words from the Bride - Uma Thurman
Goodnight Moon - Shivaree
Il tramonto - Ennio Morricone
Can't Hardly Stand It - Charlie Feathers
Tu Mirá (edit) - Lole y Manuel
Summertime Killer - Luis Bacalov
The Chase - Alan Reeves, Phil Steele e Philip Brigham
The Legend of Pai Mei - David Carradine e Uma Thurman
L'arena - Ennio Morricone
A Satisfied Mind - Johnny Cash
A Silhouette of Doom - Ennio Morricone
About Her - Malcolm McLaren
Truly and Utterly Bill - David Carradine e Uma Thurman
Malagueña Salerosa – Chingon
Urami Bushi - Meiko Kaji
Black Mamba - Wu-Tang Clan
Ascolta l'album Kill Bill Vol. 2 Original Soundtrack
Le canzoni aggiuntive presenti in Kill Bill: Volume 2
Anche Kill Bill: Volume 2 è zeppo di brani, che trovate riportati di seguito, provenienti da altri film e media.
Dies Irae - Nora Orlandi
Ay Que Caray - Marilu Esmeralda Aguiluiz
Budd's Trailer Suspicions - Robert Rodríguez
Per un pugno di dollari - Ennio Morricone
Il mercenario (ripresa) - Ennio Morricone
Pai Mei Theme - Robert Rodríguez
Three Tough Guys - Isaac Hayes
Invincible Pole Fighter - Sun Chun Hou e Stephen Shing
Sunny Road to Salina - Bernard Gérard e Christophe
Budd Twang - Robert Rodríguez
I giorni dell'ira - Riz Ortolani
La fine di Barbara e il ritorno di Joe - Ennio Morricone
Il contributo di Robert Rodríguez
L'amico fraterno di Quentin Tarantino, Robert Rodríguez, ha eseguito per il secondo capitolo alcune tracce presenti nella colonna sonora del film.
Massacre at Two Pines Wedding Chapel (Do I Look Pretty?)
Budd's Lonely Trailer
Budd's Trailer Suspicions
A Bride Revealed
Calling the Hateful Bitch
In Front of the Stairs
White Lotus Mountain (Steps of fury)
Training Montage
About Black Mamba Snakes (tema del dialogo)
Budd Twang
B.B.
La colonna sonora originale di entrambi i capitoli di Kill Bill è disponibile in audio CD, in formato digitale e in vinile.