Film
People's Choice Awards 2019: la lista completa dei vincitori per cinema e TV
I People's Choice Awards 2019, assegnati domenica 10 novembre, hanno decretato le star, gli artisti, i film e le serie TV preferiti del pubblico. Tra conferme e... qualche sorpresa (o forse no).
Marvel Studios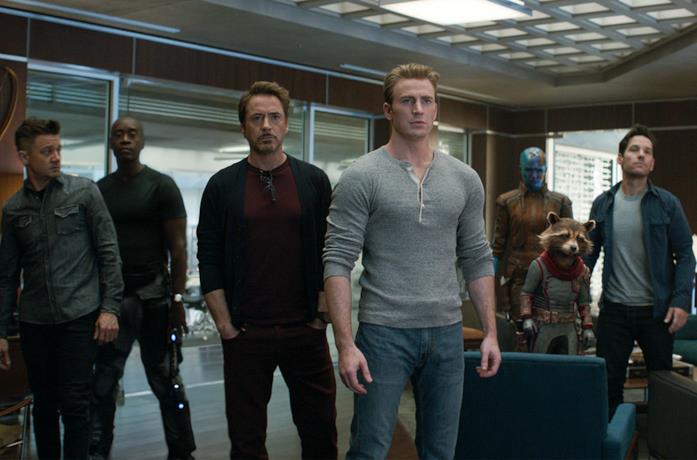 Quali sono le star, gli artisti, i film e le serie TV preferiti del pubblico nell'anno che si avvia alla conclusione? A svelarlo sono stati i People's Choice Awards 2019, che si sono tenuti domenica 10 novembre al Barker Hangar di Santa Monica (California). E non è mancata qualche sorpresa. O forse no, visto che il giudizio e il voto sono arrivati dai fan.
Se Avengers: Endgame si è confermato inarrestabile asso pigliatutto, aggiudicandosi il premio per il Miglior film e il Miglior Action Movie e per il Miglior attore a Robert Downey Jr., Game of Thrones non è riuscita a bissare il successo degli Emmy. La serie HBO (la cui ultima stagione non è piaciuta agli spettatori) è stata battuta da Stranger Things e da Outlander, che si è guadagnata il titolo di regina del binge watching.
Il Marvel Cinematic Universe ha conquistato anche i premi come Miglior attore in un action movie e Migliore attrice con Tom Holland e Zendaya per Spider-Man: Far From Home. La giovane star si è aggiudicata anche quello come Migliore attrice in una serie drammatica per Euphoria.
Tra i riconoscimenti speciali, Jennifer Aniston è stata votata People's Icon of 2019, mentre Kevin Hart ha ottenuto il People Choice Award per la categoria Migliore spettacolo comico.
Scoprite qui la lista completa dei vincitori (in grassetto nella short list dei candidati)!
Cinema
People's Icon of 2019
Jennifer Aniston
Miglior film del 2019
Avengers: Endgame
Toy Story 4
Captain Marvel
Fast & Furious - Hobbs & Shaw
Il re leone
John Wick - Parabellum
Us
Spider-Man: Far From Home
Migliore film commedia del 2019
Sempre amici
Yesterday
Attenti a quelle due
Men in Black: International
Non succede, ma se succede...
La piccola boss
Good Boys - Quei cattivi ragazzi
Murder Mystery
Miglior film di azione del 2019
Avengers: Endgame
Spider-Man: Far From Home
Captain Marvel
John Wick - Parabellum
Shazam!
Godzilla: King of the Monsters
Dark Phoenix
Fast & Furious - Hobbs & Shaw
Miglior film drammatico del 2019
Rocketman
A un metro da te
Glass
Us
Triple Frontier
After
Ted Bundy - Fascino criminale
Miglior film per famiglie del 2019
Toy Story 4
Il re leone
Aladdin
Pets 2 - Vita da animali
Dragon Trainer - Il mondo nascosto
The Lego Movie 2 - Una nuova avventura
Pokémon: Detective Pikachu
Angry Birds 2
Migliore attore del 2019
Chris Hemsworth, Avengers: Endgame
Robert Downey Jr., Avengers: Endgame
Tom Holland, Spider-Man: Far From Home
Will Smith, Aladdin
Keanu Reeves, John Wick - Parabellum
Samuel L. Jackson, Captain Marvel
Dwayne Johnson, Fast & Furious - Hobbs & Shaw
Adam Sandler, Murder Mystery
Migliore attrice del 2019
Millie Bobby Brown, Godzilla: King of the Monsters
Scarlett Johansson, Avengers: Endgame
Zendaya, Spider-Man: Far From Home
Sophie Turner, Dark Phoenix
Jennifer Aniston, Murder Mystery
Brie Larson, Captain Marvel
Lupita Nyong'o, Us
Tessa Thompson, Men in Black: International
Miglior attore/attrice in un film drammatico del 2019
Taron Egerton, Rocketman
Cole Sprouse, A un metro da te
Zac Efron, Ted Bundy - Fascino criminale
Lupita Nyong'o, Us
Leonardo DiCaprio, C'era una volta a… Hollywood
Brad Pitt, C'era una volta a… Hollywood
Sarah Paulson, Glass
Samuel L. Jackson, Glass
Miglior attore/attrice in un film commedia del 2019
Ali Wong, Finché forse non vi separi
Kevin Hart, Sempre amici
Rebel Wilson, Non è romantico?
Adam Sandler, Murder Mystery
Liam Hemsworth, Non è romantico?
Dwayne Johnson, Una famiglia al tappeto
Noah Centineo, The Perfect Date
Mindy Kaling, E poi c'è Katherine 
Miglior attore/attrice in un film d'azione del 2019
Robert Downey Jr., Avengers: Endgame
Chris Evans, Avengers: Endgame
Tom Holland, Spider-Man: Far From Home
Halle Berry, John Wick - Parabellum
Keanu Reeves, John Wick - Parabellum
Sophie Turner, Dark Phoenix
Brie Larson, Captain Marvel
Dwayne Johnson, Fast & Furious - Hobbs & Shaw
Miglior attore/attrice in un film d'animazione del 2019
America Ferrera, Dragon Trainer - Il mondo nascosto
Tom Hanks, Toy Story 4
Kevin Hart, Pets 2 - Vita da animali
Beyoncé, Il re leone
Ryan Reynolds, Pokémon: Detective Pikachu
Chris Pratt, The Lego Movie 2 - Una nuova avventura
Tiffany Haddish, Pets 2 - Vita da animali
Awkwafina, Angry Birds 2
Serie TV
Migliore serie del 2019
Game of Thrones
WWE Raw
The Walking Dead
The Big Bang Theory
Riverdale
This Is Us
Grey's Anatomy
Migliore serie drammatica del 2019
Grey's Anatomy
This Is Us
Chicago P.D.
Game of Thrones
Stranger Things
Big Little Lies
Riverdale
The Walking Dead

Migliore serie comedy del 2019
The Big Bang Theory
Saturday Night Live
Modern Family
The Good Place
Grown-ish
Veep
Orange Is the New Black
Schitt's Creek
Miglior attore TV del 2019
Kit Harington, Game of Thrones
Cole Sprouse, Riverdale
Norman Reedus, The Walking Dead
Finn Wolfhard, Stranger Things
Jim Parsons, The Big Bang Theory
Milo Ventimiglia, This Is Us
Sterling K. Brown, This Is Us
KJ Apa, Riverdale
Migliore attrice TV del 2019
Mandy Moore, This Is Us
Millie Bobby Brown, Stranger Things
Sophie Turner, Game of Thrones
Danai Gurira, The Walking Dead
Camila Mendes, Riverdale
Lili Reinhart, Riverdale
Maisie Williams, Game of Thrones
Reese Witherspoon, Big Little Lies
Miglior attore/attrice in una serie drammatica del 2019
Zendaya, Euphoria
Norman Reedus, The Walking Dead
Sophie Turner, Game of Thrones
Millie Bobby Brown, Stranger Things
Reese Witherspoon, Big Little Lies
Maisie Williams, Game of Thrones
Lili Reinhart, Riverdale
Sterling K. Brown, This Is Us
Miglior attore/attrice in una serie comedy del 2019
Leslie Jones, Saturday Night Live
Kristen Bell, The Good Place
Julia Louis-Dreyfus, Veep
Tiffany Haddish, The Last O.G.
Tracee Ellis Ross, Black-ish
Jameela Jamil, The Good Place
Yara Shahidi, Grown-ish
Jim Parsons, The Big Bang Theory
Serie TV più vista del 2019
Game of Thrones
Orange Is the New Black
Law & Order - Unità vittime speciali
The Umbrella Academy
Queer Eye
Outlander
Tredici
Stranger Things
Migliore serie sci-fi/fantasy del 2019
Stranger Things
Shadowhunters
Le terrificanti avventure di Sabrina
Supernatural
The Flash
The Umbrella Academy
Arrow
The 100
Migliore spettacolo comico del 2019
Joe Rogan
Kevin Hart
Gabriel "Fluffy" Iglesias
Trevor Noah
Ken Jeong
Amy Schumer
Colleen Ballinger
Wanda Sykes