Film
Ryan Coogler, il cast di Black Panther e i Vendicatori rendono omaggio a Chadwick Boseman
Il mondo Marvel si riunisce attorno al suo Re, Chadwick Boseman.
La morte di Chadwick Boseman ha sconvolto i fan e il mondo dell'entertainment. L'attore afroamericano aveva solo 43 anni quando si è spento a causa di un cancro al colon.
Dal 2018, con il film Black Panther, Boseman è entrato a far parte della grande famiglia del Marvel Cinematic Universe, ricoprendo un ruolo molto importante sia a livello cinematografico che a livello mediatico e della cultura popolare.
Sul grande schermo il suo re T'Challa ha unito le tribù del Wakanda e i popoli di tutto il mondo, mentre nella nostra realtà ha rappresentato il primo supereroe afroamericano protagonista in un film Marvel.
A poche ore dalla sua morte, Marvel Entertainment ha realizzato il video tributo che si può vedere in testata a questo articolo. 
Il filmato mostra diverse scene del dietro le quinte dei film Marvel ai quali Boseman ha partecipato. Alcune interviste in cui altri attori, come Robert Downey Jr. e Chris Evans, parlano della bravura attoriale di Boseman e soprattutto della sua bontà d'animo.
Il video di quasi 5 minuti si chiude con un chiaro messaggio a Boseman:
Sarai sempre il nostro re.
Oltre al video, in rete si possono trovare diversi tributi dalle star più di rilievo del Marvel Cinematic Universe. Qui di seguito si riportano i più significativi.
Marvel Studios ha pubblicato il seguente post su Instagram:
I nostri cuori sono spezzati e i nostri pensieri vanno alla famiglia di Chadwick Boseman. La tua eredità vivrà per sempre. Riposa in pace.
Danai Gurira, famosa per il ruolo di Michonne nella serie TV The Walking Dead, ha lavorato al fianco di Boseman ricoprendo il ruolo di Okoye nel Marvel Cinematic Universe.
Nel suo lungo e sentito messaggio, Gurira ha lodato le doti umane di Boseman definendolo generoso, regale e divertente. L'attrice ha anche sottolineato come Boseman fosse grandioso sul set e di come facesse sentire tutti a loro agio.
Robert Downey Jr., Iron Man nel Marvel Cinematic Universe, ha pubblicato una GIF che mostra un momento divertente del rapporto tra Boseman e lo stesso Downey Jr..
L'attore americano ha scritto che Boseman ha lottato per la sua vita come un eroe vero. Inoltre Robert Downey Jr. ha detto che non dimenticherà mai i momenti passati insieme all'interprete di Pantera Nera.
L'attrice Angela Bassett, che ha ricoperto il ruolo della madre di Pantera Nera, ha pubblicato una foto in cui il suo personaggio abbraccia quello di Boseman in una scena da Black Panther.
Nel suo messaggio, Bassett ha ricordato il tempo passato con Boseman, la bellissima anima dell'uomo e la bravura dell'attore.
Sterling K. Brown, che ha recitato in Black Panther nel ruolo dello zio di Pantera Nera, ha scritto di non avere le parole per esprimere i suoi sentimenti sull'accaduto.
I don't have words. Rest In Peace, Bruh. Thank you for all you did while you were here. Thank you for being a friend. You are loved. You will be missed. 🤜🏿🤛🏿 https://t.co/8rK4dWmorq

— Sterling K Brown (@SterlingKBrown) August 29, 2020
"Una delle persone più dolci e genuine che io abbia mai incontrato". Questo è il pensiero di Chris Hemsworth, ovvero il Thor del Marvel Cinematic Universe.
Chris Evans, Capitan America nel Marvel Cinematic Universe, ha detto di essere devastato dalla notizia. Poi, nel suo messaggio, ha parlato dell potenza e della versatilità attoriale di Boseman. Infine ha dedicato i suoi pensieri e le sue preghiere alla famiglia dell'attore scomparso.
Mark Ruffalo, Bruce Banner/Hulk nel Marvel Cinematic Universe, ha scritto della grandiosità dell'uomo e dell'attore.
All I have to say is the tragedies amassing this year have only been made more profound by the loss of #ChadwickBoseman. What a man, and what an immense talent. Brother, you were one of the all time greats and your greatness was only beginning. Lord love ya. Rest in power, King.

— Mark Ruffalo (@MarkRuffalo) August 29, 2020
Brie Larson, Carol Danvers nel Marvel Cinematic Universe, ha scritto che Boseman era uno di quelli che emanava un potere positivo e senso di pace. Larson ha lodato la capacità dell'attore afroamericano di stare insieme agli altri e di ascoltarli dal più profondo del cuore.
Samuel L. Jackson, Nick Fury nell'Universo Cinematografico Marvel, ha ricordato Boseman ringraziandolo per tutto quello che ha donato al mondo.
THANK YOU @chadwickboseman for all you gave us. We needed it & will always cherish it! A talented & giving artist & brother who will be sorely missed🙏🏿 RIP

— Samuel L. Jackson (@SamuelLJackson) August 29, 2020
Don Cheadle, War Machine nel Marvel Cinematic Universe, ha scritto parlando direttamente a Chadwick Boseman: "mi mancherai, fratello di compleanno. sei sempre stato gentile e amorevole con me."
I due sono nati nello stesso giorno, ovvero il 29 novembre.
i will miss you, birthday brother. you were always light and love to me. my god ... ✌🏿♥️✊🏿 🙅🏿‍♂️ forever and ever ... https://t.co/9pORaKZuQN pic.twitter.com/awX3DiTVwn

— Don Cheadle (@DonCheadle) August 29, 2020
I fratelli Russo, che lo hanno diretto in ben 3 pellicole del Marvel Cinematic Universe, hanno lodato l'uomo e hanno scritto un appello a tutti:
Il miglior modo di onorare la sua memoria è quello di imitarlo. Siate gentili e amorevoli con gli altri.
Letitia Wright, che interpreta la sorella di Black Panther nel Marvel Cinematic Universe, ha scritto di essere davvero colpita da quanto accaduto.
this hurts. really hurts

— Letitia Wright (@letitiawright) August 30, 2020
L'attore Forest Whitaker, che ha interpretato lo sciamano Zuri in Black Panther, ha scritto su Twitter che la memoria di Boseman continuerà a illuminare i cieli, i cuori e le menti.
Your light brightened our days. It will continue to brighten our hearts and minds. Let the heavens be blessed as you illuminate the sky. Sending my love and prayers to the family. May god continue to hold you in his everlasting embrace. RIP Chadwick pic.twitter.com/wIUaooHLqq

— Forest Whitaker (@ForestWhitaker) August 29, 2020
L'attore Simu Liu, che prossimamente si mostrerà al mondo nei panni del supereroe Marvel Shang-Chi, ha sottolineato l'importanza del film Black Panther e della performance di Chadwick Boseman, senza la quale - ha scritto - non ci sarebbe stato nemmeno il film dedicato a Shang-Chi.
Quasi sicuramente, Liu ha fatto riferimento al grande successo al botteghino ottenuto da Black Panther nel 2018. Gli incassi del film con Boseman hanno dimostrato che supereroi di altre etnie e culture possono avere successo al cinema.
I want to be crystal clear: without Chadwick, and what he gave to his character, there is no Shang Chi. Period. My career rides on the coattails of a great man.

I wish I would have had the opportunity to tell him in person - but I'll fight for him always, my Eternal King.

— Simu Liu (@SimuLiu) August 29, 2020
Andy Serkis, che ha interpretato il villain Ulysses Klaue nel Marvel Cinematic Universe, ha descritto Boseman come un leader naturale e un uomo di cui ci sarebbe ancora bisogno in questo mondo.
Il ricordo del regista Ryan Coogler
Ryan Coogler ha diretto Chadwick Boseman nel film Black Panther uscito nei cinema nel 2018.
In una dichiarazione al sito Deadline, Coogler ha espresso tutto il suo dolore per la morte dell'amico.
Coogler ha parlato di quando ha deciso che avrebbe diretto Black Panther.
Il regista ha detto che stava visionando le scene del personaggio di Black Panther girate per il film Captain America: Civil War. Quando, in una di queste sequenze, ha sentito Boseman parlare una lingua diversa dall'inglese per rivolgersi al padre di T'Challa, nel regista è scattato qualcosa che lo ha convinto ad accettare l'incarico di Marvel Studios.
La scena a cui si è riferito Coogler la si può vedere dal minuto 1:15 del video qui sotto: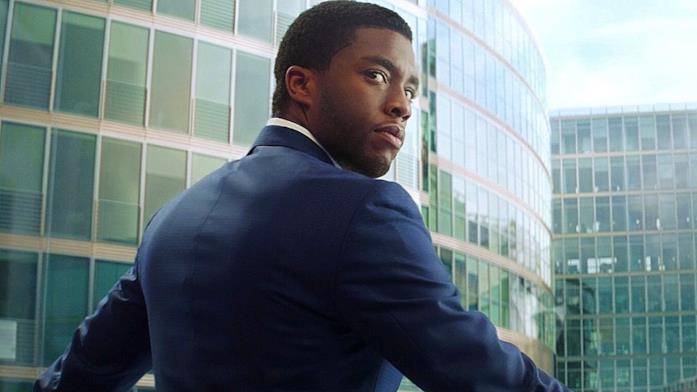 La lingua nella quale parlano i due attori, Boseman e John Kani, è lo Xhosa. Questa è la lingua nativa di Kani che lui stesso ha proposto di usare per una battuta tra i due personaggi del Wakanda. 
La scelta è piaciuta sia ai fratelli Russo che a Marvel Studios così, anche per scelta di Ryan Coogler, lo Xhosa è diventata la lingua del Wakanda.
Poi Coogler, nel suo discorso, ha parlato del primo incontro avuto con Chadwick, che lui chiama Chad, avvenuto nel 2016.
Coogler ha raccontato che con Chad hanno parlato amichevolmente di tanti argomenti e della loro infanzia. Da quell'incontro, Coogler capì subito che Boseman era una persona speciale:
Chad era calmo. Sicuro. Studiava sempre. Era anche gentile e confortante. Aveva la risata più calda del mondo e occhi che avevano visto molto negli anni ma che potevano ancora brillare come quelli di un bambino che vedeva qualcosa per la prima volta.
Per quanto riguarda la lavorazione a Black Panther, Coogler ha detto che Boseman ha voluto partecipare a quasi ogni passaggio della preparazione al film, anche a quelli che non gli riguardavano direttamente. Coogler ha apprezzato la dedizione dell'attore per il film e lo ha reso partecipe sempre.