Film
The Comeback Trail: trailer, trama e cast del film con Robert De Niro, Zach Braff e Tommy Lee Jones
Arriverà al cinema a novembre The Comeback Trail, il nuovo film con Robert De Niro, Zach Braff e Tommy Lee Jones remake dell'omonima pellicola di Harry Hurwitz del 1982. La trama racconta di una truffa messa a punto da due produttori in rovina...
È in arrivo The Comeback Trail, nuovo remake dell'omonima pellicola del 1982 diretta da Harry Hurwitz.
Con Robert De Niro, Zach Braff e Tommy Lee Jones, questa volta dietro la macchina da presa The Comeback Trail vede George Gallo.
Il trailer di The Comeback Trail mostra  le prime scene del film, con Robert De Niro e Morgan Freeman nel ruolo dei protagonisti: il produttore in difficoltà economiche Max Barber e il mafioso Reggie Fontaine.
Giuro che non sto mentendo. Okay, sto mentendo un po', ma sono un produttore... è quello che faccio e avrò i tuoi soldi, te lo prometto.
Ma Fontaine minaccia di uccidere Barber, se quest'ultimo non gli darà i soldi che gli deve.
Hai 72 ore. Dopodiché, ti soffoco a morte.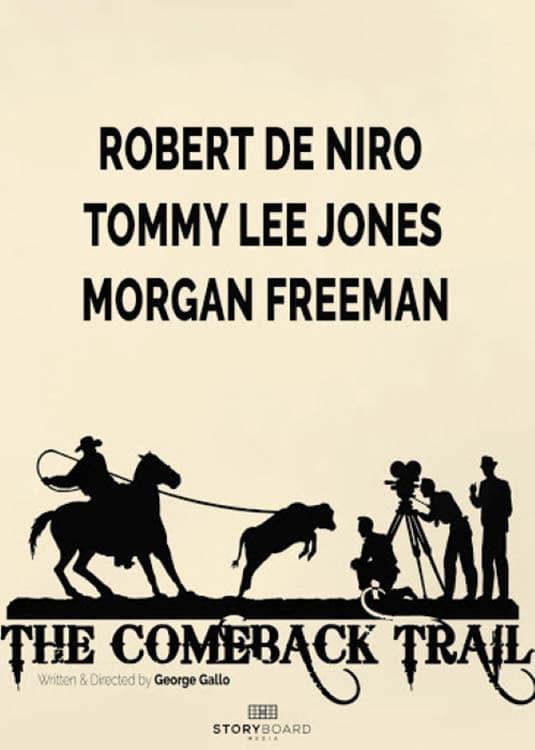 Ci troviamo a Hollywood, Los Angeles, nel 1974 ed è qui che vediamo raccontare da Barber a un altro produttore, Walter Creason (Walter Creason), quanto accaduto.
Siamo già stati nei guai. Troviamo sempre una via d'uscita.
In seguito a un incidente avvenuto sul set di un film, i due hanno un'idea: la morte di un attore sul set ha fatto guadagnare al produttore cinque milioni di dollari, grazie alla sua assicurazione sulla vita. Perché non fare la stessa cosa e rimediare il denaro che serve per pagare Fontaine?
Così, Max Barber decide di mettere su un film fittizio, assumere una star del cinema e provocarne la morte sul set, per ottenere il cospicuo risarcimento: la star in questione è Duke Montana (Tommy Lee Jones), ex attore del cinema western.
Le cose, però, non vanno come previsto, perché Duke sembra essere immortale e nessuno dei piani va in porto…
La trama del film con Robert De Niro
La trama di The Comeback Trail vede due produttori, Max Barber e Walter Creason – rispettivamente interpretati da Robert De Niro e Zach Braff – che, a causa di gravi problemi economici, decidono di mettere su una truffa, così da potersi liberare dal proprio creditore: il mafioso Reggie Fontaine, interpretato da Morgan Freeman.
La truffa ideata dai due prevede l'ingaggio di Duke Montana (Tommy Lee Jones), ex star del cinema che Max e Walter tenteranno di uccidere sul set in modo accidentale così da ottenere i soldi dell'assicurazione.
Per Max e Walter non sarà, però, così facile riuscire nell'intento di uccidere Montana: quest'ultimo, infatti, riuscirà a sopravvivere praticamente a tutto…
Il cast di The Comeback Trail
Diretto da George Gallo, il remake del film di Harry Hurwitz vede nel cast:
Robert De Niro (Max Barber)
Zach Braff (Walter Creason)
Morgan Freeman (Reggie Fontaine)
Tommy Lee Jones (Duke Montana)
Emile Hirsch (James Moore)
Eddie Griffin (Devin Wilton)
Patrick Muldoon (Frank Pierce)
Kate Katzman (Megan Albert)
Blerim Destani (Boris)
Malcolm Barrett
Vincent Spano (Joey)
La sceneggiatura è stata scritta dallo stesso George Gallo e Josh Posner.
I produttori sono Joy Sirott Hurwitz, Philip Kim, Patrick Hibler, Julie Lott Gallo, Richard Salvatore e David E. Ornston.
The Comeback Trail al cinema
La data di uscita di The Comeback Trail è prevista al cinema, negli USA, per il 13 novembre 2020.