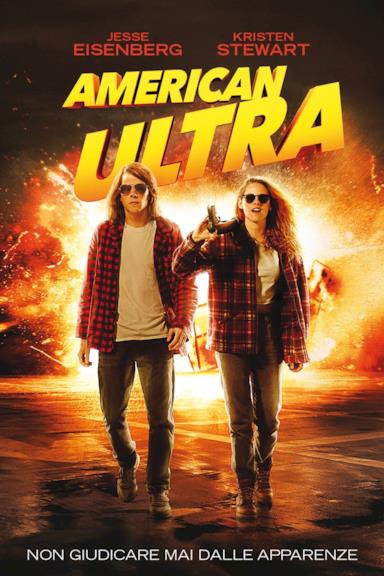 American Ultra
2015
Vota!
Genere: Azione & Avventura, Commedia
Durata: 99 min
Regia: Nima Nourizadeh
Sceneggiatura: Max Landis
Produttori esecutivi: Ray Angelic, Steffen Aumueller, Robert Ogden Barnum, Buddy Patrick, Eyal Rimmon, Jonathan Gardner, Robert Ogden, Zülfikar Güzelgün, Gideon Tadmor, Tom Rock
Produttori: Anthony Bregman, Kevin Scott Frakes, David Alpert, Raj Brinder Singh, Britton Rizzio
Fotografia: Michael Bonvillain
Montaggio: Bill Pankow, Andrew Marcus
Musica: Darrell Hall, Randall Poster, Marcelo Zarvos, Annette Kudrak
Scenografia: Richard Bridgland
Costumi: David C. Robinson, Lee Harper
Trucco: Paige Reeves, Courtney Lether
Case di produzione: Merced Media Partners, Robby Müller, The Bridge Finance Company, Circle of Confusion, FilmNation Entertainment, Likely Story, PalmStar Media
Sinossi
Mike (Jesse Eisenberg) vive con la sua fidanzata Phoebe (Kristen Stewart) in una piccola cittadina americana, dove il suo passatempo preferito è l'uso abbondante di droghe. A sua insaputa, però, Mike è anche un agente super addestrato e letale e improvvisamente, quando il suo passato segreto torna a tormentarlo, Mike viene catapultato nel bel mezzo di un'operazione governativa mortale e per poter sopravvivere sarà costretto a ricorrere all'eroe che è in lui.