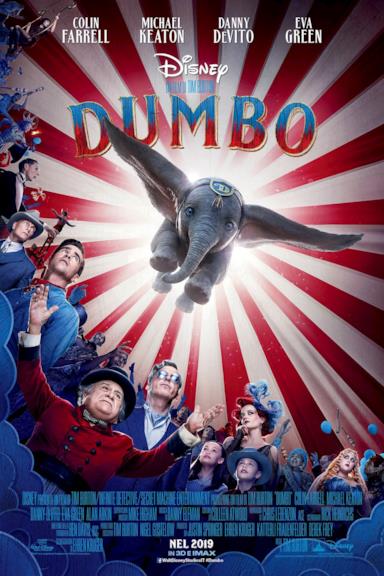 Dumbo
2019
Vota!
Genere: Azione & Avventura, Per famiglie, Sci-Fi & Fantasy
Durata: 112 min
Regia: Tim Burton
Sceneggiatura: Ehren Kruger, Helen Aberson, Harold Pearl
Produttori esecutivi: Tim Burton, Nigel Gostelow
Produttori: Ehren Kruger, Katterli Frauenfelder, Derek Frey, Justin Springer
Fotografia: Ben Davis
Montaggio: Chris Lebenzon
Musica: Danny Elfman, Bill Abbott, Michael Higham, Lisa Jaime, Simon Changer
Scenografia: Rick Heinrichs
Costumi: Colleen Atwood, Christine L. Cantella, Mark Sutherland
Art director: Chris Lowe
Case di produzione: Tim Burton Productions, Mark Hamill, Moving Picture Company, Infinite Detective, Secret Machine Entertainment, British Film Commission, UK Government's High End Television Tax Relief, Province of British Columbia Production Services Tax Credit, Government of Australia, South Australian Film Corporation
Sinossi
Il visionario Tim Burton dirige il remake live-action di uno dei Classici Disney più amati di sempre: Dumbo.
Nella nuova storia dedicata al giovane elefantino facciamo la conoscenza della ex star del circo Holt Farrier, da poco tornato da una guerra che l'ha cambiato per sempre. Il proprietario di un circo in difficoltà, Max Medici, lo ingaggia per prendersi cura di Dumbo, un elefante appena nato che le sue grandissime orecchie rendono lo zimbello della compagnia. Una sorpresa aspetta tutti loro: Milly e Joe, i figli di Holt, scoprono infatti che l'elefantino è in grado di volare! Grazie a Dumbo, il circo rifiorisce. Le abilità dell'elefantino però catturano l'attenzione del persuasivo impresario V.A. Vandevere, che lo recluta per esibirsi nella spettacolare Dreamland.
Nella versione italiana del film, Elisa canta la bellissima Bimbio Mio e presta la sua voce a uno dei personaggi dei film, la sirena Miss Atlantis.