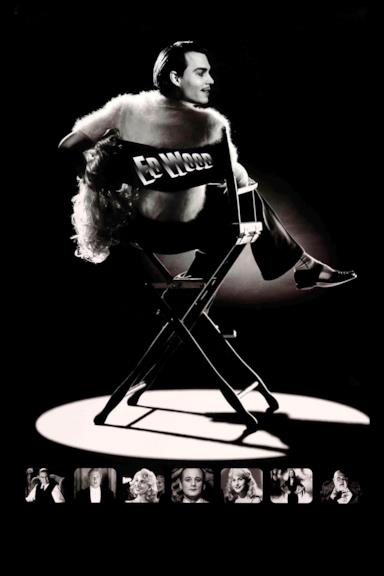 Ed Wood
1994
Vota!
Genere: Commedia, Drammatica, Storia
Durata: 127 min
Regia: Tim Burton
Sceneggiatura: Rudolph Grey, Scott Alexander, Larry Karaszewski
Produttori esecutivi: Michael Lehmann
Produttori: Tim Burton, Denise Di Novi, Michael Flynn
Fotografia: Stefan Czapsky
Montaggio: Chris Lebenzon
Effetti speciali: Kevin Pike
Musica: Howard Shore, Ellen Segal
Scenografia: Tom Duffield
Costumi: Colleen Atwood, Michelle Skoby
Trucco: Ve Neill, Jim Leonard, Matt Rose, Carrie Angland
Case di produzione: Hiroyuki Sanada
Sinossi
La vita e le opere del leggendario Edward D. Wood Jr., considerato dalla critica come il peggior regista di tutti i tempi. Il film si concentra soprattutto sugli anni '50, periodo dove realizzò i suoi "capolavori": Glen o Glenda (Glen or Glenda, 1953), La sposa del mostro (Bride of the Monster, 1955) e Plan 9 from Outer Space (1959). La pellicola inoltre rende omaggio alla sua strampalata amicizia con Bela Lugosi, star del cinema horror in bianco e nero, ormai anziano e disoccupato, e al suo travestitismo e feticismo per i maglioncini d'angora da donna.