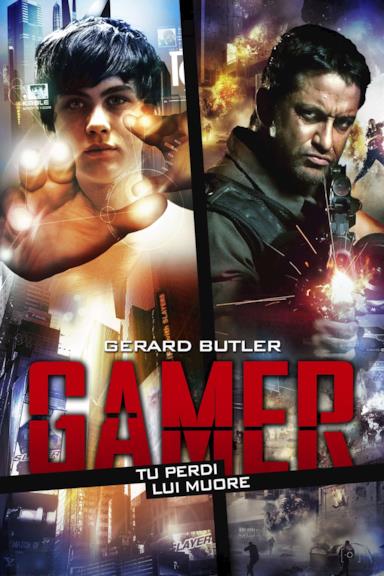 Gamer
2009
Vota!
Genere: Azione & Avventura, Sci-Fi & Fantasy, Thriller
Durata: 95 min
Regia: Brian Taylor, The Walt Disney Company
Sceneggiatura: Brian Taylor, The Walt Disney Company
Produttori esecutivi: Front Street Pictures, Brian Taylor, The Walt Disney Company, Michael Paseornek, Eric Reid, David Rubin
Produttori: Tom Rosenberg, Gary Lucchesi, Richard S. Wright, Skip Williamson
Fotografia: Ekkehart Pollack
Montaggio: Peter Amundson, Fernando Villena, Doobie White
Musica: Geoff Zanelli, Robb Williamson, Jon Mooney, Brian McNelis, Shie Rozow, Eric Craig
Scenografia: Jerry Fleming
Costumi: Alix Friedberg
Trucco: Tarra D. Day, Karen McDonald, Lisa Taylor Roberts, Deidre Parness
Art director: Peter Borck
Case di produzione: Robby Müller, Fran Walsh
Sinossi
In un futuro non troppo lontano il produttore di videogames Ken Castle ha ottenuto un grande successo con "Society"". Si tratta di un gioco in cui si può ordinare a distanza a un essere umano, dietro compenso, di vivere una vita che obbedisce agli ordini del soggetto pagante. Non contento Castle ha realizzato "Slayer", game in cui chi può permetterselo paga per controllare dei condannati a morte che accettano missioni pericolosissime con la speranza di giungere alla fine del gioco vivi ed ottenere in premio la liberazione. L'eroe della prima edizione che appassiona miliardi di persone è Kable, un detenuto per omicidio il cui sogno è quello di potersi ricongiungere a moglie figlia. Kable è controllato da un diciassettenne abilissimo. Ma riuscirà ad arrivare vivo al termine dei 50 combattimenti previsti?