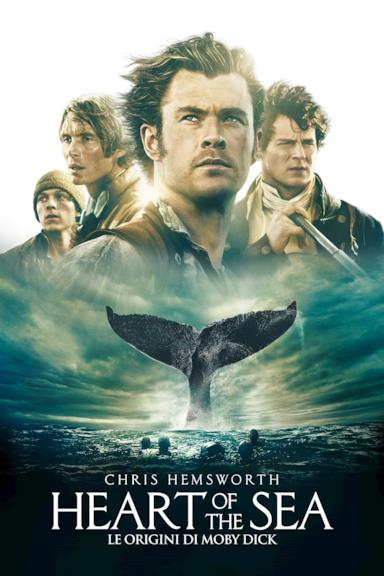 Heart of the Sea - Le origini di Moby Dick
2015
Vota!
Genere: Azione & Avventura, Drammatica, Storia, Thriller
Durata: 121 min
Regia: Ron Howard
Sceneggiatura: Charles Leavitt, Rick Jaffa, Amanda Silver, Nathaniel Philbrick
Produttori esecutivi: Steven Mnuchin
Produttori: Brian Grazer, Ron Howard, Paula Weinstein, Joe Roth, Will Ward
Fotografia: Anthony Dod Mantle
Montaggio: Daniel P. Hanley, Mike Hill
Musica: Roque Baños, Karen Elliott, David Walter, Paul John Chandler
Scenografia: Mark Tildesley
Costumi: Julian Day
Trucco: Marilyn MacDonald, Kirstin Chalmers, Daniel McGraw
Art director: Niall Moroney, Christian Huband
Case di produzione: Bill Hunter, Spring Creek Productions, Roth Films, K. JAM Media, Cott Productions, Surf Film, Wilson Yip, Warner Bros. Pictures, Village Roadshow Pictures
Sinossi
Nell'inverno del 1820, la baleniera del New England viene attaccata da una creatura incredibile: una balena dalle dimensioni e la forza elefantiache, ed un senso quasi umano di vendetta. Il disastro marittimo, realmente accaduto, avrebbe ispirato Herman Melville a scrivere Moby Dick. Ma l'autore ha descritto solo una parte della storia. Heart of the Sea - Le origini di Moby Dick rivela le conseguenze di quella straziante aggressione, di come i superstiti dell'equipaggio della nave vengono spinti oltre i loro limiti e costretti a compiere l'impensabile per poter sopravvivere. Sfidando le intemperie, la fame, il panico e la disperazione, gli uomini mettono in discussione le loro convinzioni più radicate: dal valore della vita alla moralità delle loro spedizioni, mentre il capitano cerca di riprendere la rotta in mare aperto, ed il primo ufficiale tenta di sconfiggere il capodoglio.