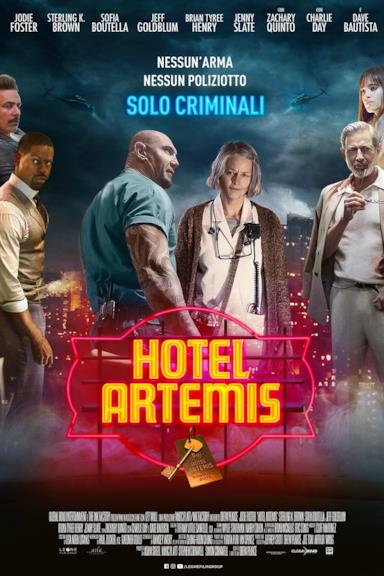 Hotel Artemis
2018
Vota!
Genere: Azione & Avventura, Sci-Fi & Fantasy, Thriller
Durata: 94 min
Regia: Drew Pearce
Sceneggiatura: Drew Pearce
Produttori esecutivi: Jeffrey Stott, Drew Pearce, Joe Tsai, Arthur Wang
Produttori: Marc Platt, Adam Siegel, Stephen Cornwell, Simon Cornwell
Fotografia: Jeong Jeong-hun
Montaggio: Paul Zucker, Gardner Gould
Musica: Cliff Martinez, Mark Jan Wlodarkiewicz, Mary Parker
Scenografia: Ramsey Avery
Costumi: Lisa Lovaas, Chrissy Callan
Case di produzione: The Ink Factory, Marc Platt Productions, Point of No Return, 127 Wall
Sinossi
E' un mercoledì notte del 2028 e le strade del centro di Los Angeles sono tutte bloccate da tafferugli e manifestazioni. Le forze di polizia della città stanno respingendo violentemente i manifestanti che si sono tinti di blu per perorare la loro unica richiesta: acqua pulita. In tutto questo inferno, si aggirano quattro uomini, con i volti coperti da maschere a teschio, che hanno appena fallito un colpo in banca finendo in uno scontro a fuoco con la polizia. Feriti e senza altre opzioni, l'unica speranza di sopravvivere è raggiungere prima possibile uno stabile di 13 piani, in art déco, dalla logora facciata, un tempo un prestigioso hotel ma adesso un luogo sicuro che nasconde all'attico un ospedale all'avanguardia. Questo Pronto Soccorso è molto esclusivo, riservato ai soli criminali; l'iscrizione si paga in anticipo e tutte le regole della casa devono essere seguite alla lettera.
NoSpoiler seleziona in modo indipendente i gadget e servizi che ti proponiamo in queste pagine e potrebbe ricevere una piccola quota (senza costi aggiuntivi per te) nel caso di acquisto tramite i link proposti.