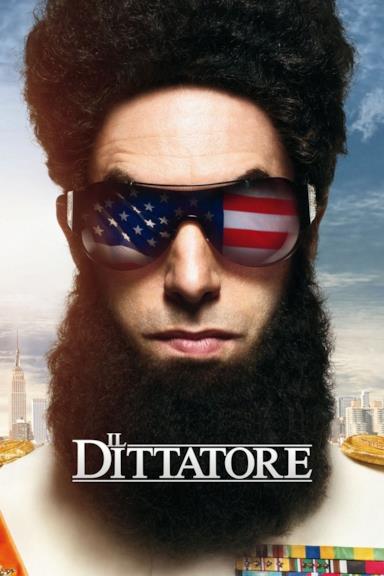 Il dittatore
2012
Vota!
Genere: Commedia
Durata: 83 min
Regia: Larry Charles
Sceneggiatura: Sacha Baron Cohen, Jeff Schaffer, Alec Berg, David Mandel
Produttori esecutivi: Peter Baynham, Dan Mazer, Mari-Jo Winkler, Adam McKay
Produttori: Scott Rudin, Sacha Baron Cohen, Anthony Hines, Jeff Schaffer, Alec Berg, David Mandel, Todd Schulman
Fotografia: Lawrence Sher
Montaggio: Greg Hayden, Eric Kissack
Musica: Erran Baron Cohen, Richard Henderson, Stephen Lotwis
Scenografia: Victor Kempster
Costumi: Jeffrey Kurland, Jason Alper, Nicky Tobolski, Mitchell Travers, John Glaser, Jacqueline Oknaian, Wallace G. Lane Jr., James Hammer
Trucco: Marjorie Durand
Art director: Greg Berry
Case di produzione: Marc Butan, Carrie Fisher
Sinossi
"Il dittatore" è liberamente ispirato al romanzo best seller "Zabibah and The King" di Saddam Hussein. Il film racconta l'eroica storia di un dittatore che ha rischiato la sua vita per fare in modo che la democrazia non prenda piede nel paese che sta amorevolmente opprimendo.