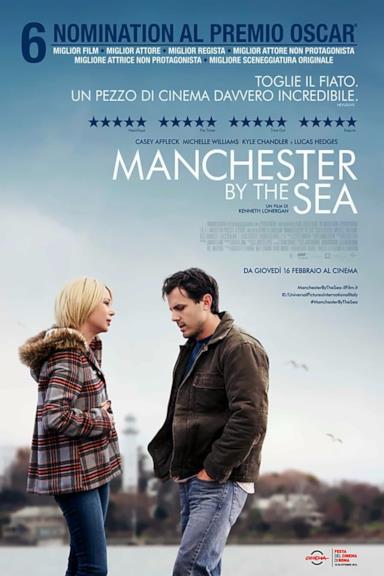 Manchester by the Sea
2016
Vota!
Genere: Drammatica
Durata: 135 min
Regia: Kenneth Lonergan
Sceneggiatura: Kenneth Lonergan
Produttori esecutivi: John Krasinski, Declan Baldwin, Bill Migliore, Josh Godfrey
Produttori: Matt Damon, Chris Moore, Gigi Pritzker, Kevin J. Walsh, Lauren Beck, Kimberly Steward
Fotografia: Jody Lee Lipes
Montaggio: Jennifer Lame
Musica: Linda Cohen, Lesley Barber, Mick Gormaley
Scenografia: Ruth de Jong
Costumi: Melissa Toth, Joanna Murphy
Trucco: Rob Fitz
Case di produzione: Dean Jagger, K Period Media, B Story, The Affleck/Middleton Project, The Media Farm, Joe Manganiello, Big Indie Pictures, CMP Entertainment, OddLot Entertainment, Robby Müller
Sinossi
Lee Chandler conduce una vita solitaria in un seminterrato di Boston, tormentato dal suo tragico passato. Quando suo fratello Joe muore, è costretto a tornare nella cittadina d'origine, sulla costa, e scopre di essere stato nominato tutore del nipote Patrick, il figlio adolescente di Joe. Mentre cerca di capire cosa fare con lui, e si occupa delle pratiche per la sepoltura, rientra in contatto con l'ex moglie Randy e con la vecchia comunità da cui era fuggito. Allontanare il ricordo della tragedia diventa sempre più difficile.