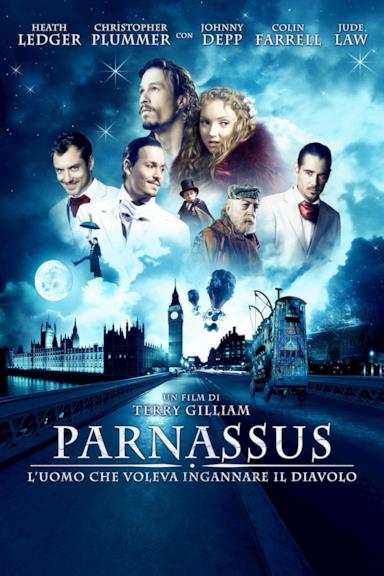 Parnassus - L'uomo che voleva ingannare il diavolo
2009
Vota!
Genere: Azione & Avventura, Mistero, Sci-Fi & Fantasy
Durata: 123 min
Regia: Terry Gilliam
Sceneggiatura: Terry Gilliam, Charles McKeown
Produttori: Terry Gilliam, Samuel Hadida, William Vince, Amy Gilliam
Musica: Mychael Danna, Jeff Danna
Scenografia: Anastasia Masaro, David Warren
Costumi: Monique Prudhomme
Case di produzione: Téléfilm Canada, David Cross, Eugene Byrd, The Movie Network, Canadian Film or Video Production Tax Credit Fund (CPTC), British Columbia Film, Province of British Columbia Film Incentive BC, Movie Central, Leander Haußmann, Janna Striebeck
Sinossi
Il Dottor Parnassus gira per le strade con il suo carrozzone dalle qualità particolari. In compagnia di un giovane, una fanciulla (sua figlia Valentina) e un nano mette in scena ovunque uno spettacolo che ha al suo centro uno specchio. Chi lo oltrepassa si trova in un mondo in cui puo' realizzare i suoi desideri piu' fantasiosi. Parnassus e' immortale ma ha conquistato questa dote grazie a una scommessa vinta con il Diavolo che ha assunto le sembianze del perfido Mr. Nick. Sono trascorsi i secoli e, nel momento in cui ha trovato il vero amore, il Dottore ha stipulato un nuovo patto con Mr. Nick il quale vuole che Valentina sia sua al compimento del sedicesimo anno di età. La data è ormai prossima.