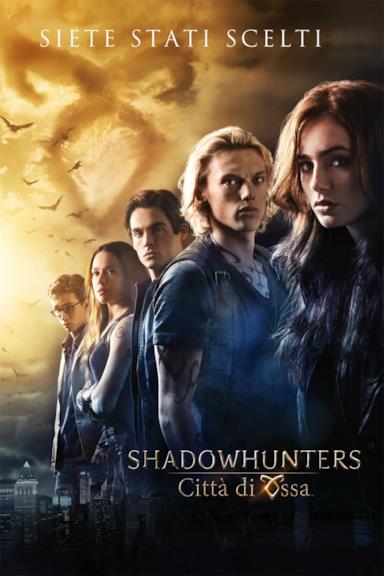 Shadowhunters - Città di ossa
2013
Vota!
Genere: Azione & Avventura, Mistero, Sci-Fi & Fantasy
Durata: 130 min
Regia: Harald Zwart
Sceneggiatura: I. Marlene King, Cassandra Clare, Jessica Postigo
Produttori esecutivi: Michael Lynne, Robert Shaye, Martin Moszkowicz, Bottom of the Ninth Productions, Christopher Singleton
Produttori: Robert Kulzer, Don Carmody
Montaggio: Jacqueline Carmody
Musica: Atli Örvarsson, Clint Bennett, Kevin Banks
Scenografia: François Séguin
Costumi: Gersha Phillips
Case di produzione: Screen Gems, Robert Seeliger, Unique Features, Michihiro Ikemizu, Jon Polito
Sinossi
Clary Fray è un'adolescente newyorkese che, in un locale, assiste ad un omicidio che solo lei sembra in grado di poter vedere. Più tardi, scopre che la madre viene rapita da un misterioso uomo chiamato Valentine, che è alla ricerca della cosiddetta Coppa Mortale. Catapultata quindi in un mondo di cui ignorava l'esistenza, in cui demoni, stregoni, vampiri, licantropi e altre creature leggendarie sono realtà, si affida agli Shadowhunters, guerrieri semi-angeli che le persone normali non possono vedere, per iniziare un viaggio alla ricerca della madre e alla scoperta di quell'universo di cui anche lei sembra far parte. Dopo aver scoperto verità nascoste sul suo passato e sui suoi antenati, si renderà conto di avere anche lei dei poteri. Nel mezzo di una battaglia tra forze che a fatica riesce a capire, continuerà quindi la sua corsa contro il tempo per salvare la madre prima che sia troppo tardi.