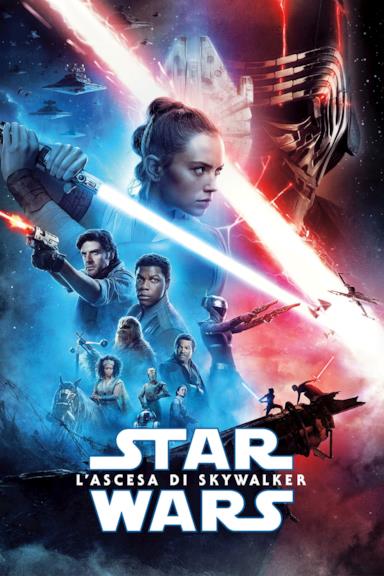 Star Wars: L'ascesa di Skywalker
2019
Vota!
Genere: Azione & Avventura, Sci-Fi & Fantasy
Durata: 142 min
Regia: J.J. Abrams
Sceneggiatura: George Lucas, J.J. Abrams, Chris Terrio, Colin Trevorrow, Derek Connolly
Produttori esecutivi: Callum Greene, Jason D. McGatlin, Tommy Gormley
Produttori: Kathleen Kennedy, J.J. Abrams, Michelle Rejwan
Fotografia: Dan Mindel
Montaggio: Maryann Brandon, Stefan Grube
Musica: John Williams
Scenografia: Rick Carter, Kevin Jenkins
Costumi: Michael Kaplan, Stella Atkinson, Vivienne Jones
Trucco: Bill Corso, Carleigh Herbert, Amy Byrne, Daniel Lawson Johnston, Chloe Grice
Art director: Paul Inglis
Animatori: Scott Dace, Ted Lister, Kiel Figgins
Case di produzione: George Lucas, Bad Robot
Sinossi
Star Wars: L'Ascesa di Skywalker, anche conosciuto come Star Wars: The Rise of Skywalker o semplicemente come Episodio IX, è l'ultimo film che chiude la saga sequel di Guerre Stellari, saga iniziata nel 2015 con Il Risveglio della Forza. Nel nuovo capitolo ritroveremo ancora Rey, Finn, Poe, Kylo Ren e tutti i nuovi personaggi della galassia lontana lontana, nell'eterna lotta fra bene e male, fra la Resistenza e il Primo Ordine.
Anche per questo film ci saranno i volti storici della saga, Mark Hamill e Carrie Fisher, con l'aggiunta di Billy Dee Williams che riprenderà il ruolo di Lando Calrissian e Ian McDiarmid, ovvero Darth Sidious.
NoSpoiler seleziona in modo indipendente i gadget e servizi che ti proponiamo in queste pagine e potrebbe ricevere una piccola quota (senza costi aggiuntivi per te) nel caso di acquisto tramite i link proposti.