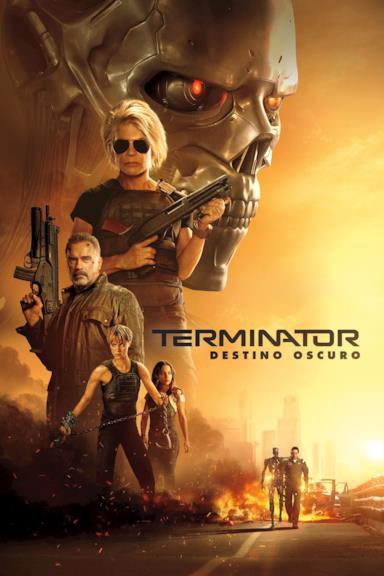 Terminator - Destino oscuro
2019
Vota!
Genere: Azione & Avventura, Sci-Fi & Fantasy
Durata: 128 min
Regia: Tim Miller
Sceneggiatura: Gale Anne Hurd, David S. Goyer, James Cameron, John Friedmann, Billy Ray, Justin Rhodes, Charles H. Eglee, Amanda Boyd
Produttori esecutivi: Bonnie Curtis, Julie Lynn, John J. Kelly, Dana Goldberg, Don Granger, Edward Cheng
Produttori: James Cameron, David Ellison
Fotografia: Ken Seng
Montaggio: Julian Clarke
Musica: Junkie XL, Jason Schmid
Scenografia: Sonja Klaus
Costumi: Ngila Dickson, Libby Dempster
Trucco: Kate Biscoe, Jamie Kelman, Michael Ornelaz, Becky Cotton, Samantha Ward, Montse Damas, Szilvia Homolya, Isabel Auernheimer
Art director: Lucienne Suren
Animatori: Scott Dace, Bill Bridges, Alfonso Sicilia, Kenneth Meyer
Case di produzione: Lightstorm Entertainment, Nolan Gerard Funk, 20th Century Fox, Carrie Fisher, Tencent Pictures, TSG Entertainment, Instituto de la Cinematografía y de las Artes Audiovisuales (ICAA), Ministry of Finance of Spain, Jeff Levine, Hungarian National Film Fund, Mid Atlantic Films
Sinossi
Arnold Schwarzenegger e Linda Hamilton ancora una volta insieme per riprendere gli iconici ruoli della saga di Terminator che hanno contributo alla loro fama: quelli del T-800 e di Sarah Connor.
In Destino oscuro, ambientato 27 anni dopo gli eventi di Terminator 2, il pericolo arriva come sempre dal futuro. Un nuovo modello di Terminator, basato su uno speciale metallo liquido, viene spedito nel nostro presente per uccidere la giovane Dani Ramos, un ibrido cyborg-umano, e i suoi amici.
A difendere la ragazza arriverà Grace, una ex assassina proveniente dal futuro che ben presto rivelerà tutta la sua determinazione. A proteggere Dani ci sarà anche una invecchiata (ma sempre formidabile) Sarah Connor, ancora piena di risorse e ancora con diversi assi nella manica da giocare: primo tra tutti, il T-800 incontrato decenni prima.
Benvenuti nel giorno dopo il giorno del giudizio.
NoSpoiler seleziona in modo indipendente i gadget e servizi che ti proponiamo in queste pagine e potrebbe ricevere una piccola quota (senza costi aggiuntivi per te) nel caso di acquisto tramite i link proposti.