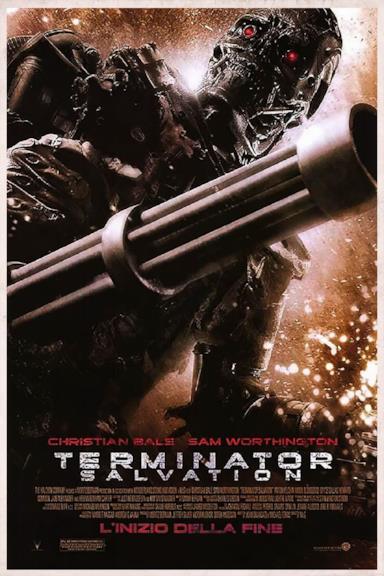 Terminator Salvation
2009
Vota!
Genere: Azione & Avventura, Sci-Fi & Fantasy, Thriller
Durata: 115 min
Regia: McG
Sceneggiatura: John D. Brancato, Michael Ferris, Steven E. Gordon
Produttori esecutivi: Mario Kassar, Joel B. Michaels, Andrew G. Vajna, Dan Lin, Jeanne Allgood, Peter D. Graves
Produttori: Moritz Borman, Jeffrey Silver, Victor Kubicek, Derek Anderson
Fotografia: Shane Hurlbut
Montaggio: Conrad Buff IV
Musica: Danny Elfman, Bill Abbott
Scenografia: Martin Laing
Costumi: Michael Wilkinson
Trucco: Ed French, Rolf John Keppler, Deidre Parness, Christopher Trujillo
Storyboard: Steven E. Gordon
Case di produzione: Peter Cushing, The Halcyon Company, Wonderland Sound and Vision, Warner Bros. Pictures
Sinossi
Anno 2003. Marcus Wright è detenuto nel Braccio della Morte in attesa di ricevere l'iniezione letale. Ha ucciso suo fratello e due poliziotti e vuole soltanto farla finita ma la dottoressa Serena Kogan ha deciso per lui un altro destino. Firmato un documento legale che consegna il suo corpo alla scienza e gli promette una seconda opportunità, Marcus viene 'terminato'. Anno 2018. John Connor, leader ideale e carismatico del genere umano, partecipa alla Resistenza contro Skynet, il network di intelligenze artificiali, e il suo esercito di Terminator indistruttibili. Efficace e intraprendente, è deciso a sferrare un attacco mortale al nemico, a trovare suo padre Kyle Reese e a garantire un futuro all'umanità dopo l'apocalisse nucleare scatenata dalle macchine. Lo aiuterà Marcus, galeotto venuto dal passato e portatore di un segreto. Diffidenti ma determinati a vincere la loro battaglia, collaboreranno e troveranno la verità nel cuore.