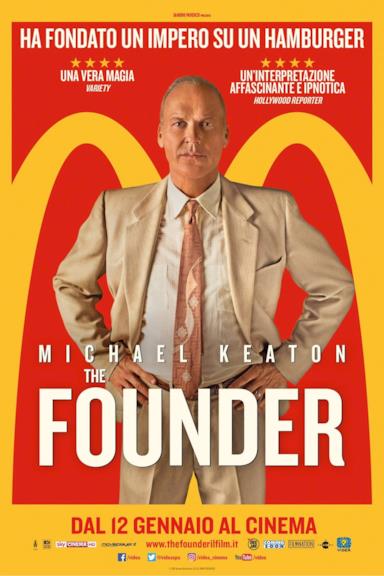 The Founder
2016
Vota!
Genere: Drammatica, Storia
Durata: 115 min
Regia: John Lee Hancock
Sceneggiatura: Robert D. Siegel
Produttori esecutivi: Bob Weinstein, Harvey Weinstein, David Glasser, Karen Lunder, Christos V. Konstantakopoulos, Glen Basner, David S. Greathouse, William D. Johnson, Alison Cohen, Holly Brown
Produttori: Aaron Ryder, Jeremy Renner, Don Handfield
Fotografia: John Schwartzman
Montaggio: Robert Frazen
Musica: Carter Burwell, Adam Milo Smalley
Scenografia: Michael Corenblith
Costumi: Daniel Orlandi
Case di produzione: Speedie Distribution, FilmNation Entertainment, Michael Bennett, The Combine, The Weinstein Company
Sinossi
Come si può creare uno dei più grandi imperi economici a partire da un semplice hamburger? Per rispondere occorre scoprire la storia vera di Ray Kroc - interpretato da uno straordinario Michael Keaton - imprenditore statunitense, meglio noto come il fondatore della catena miliardaria McDonald's.