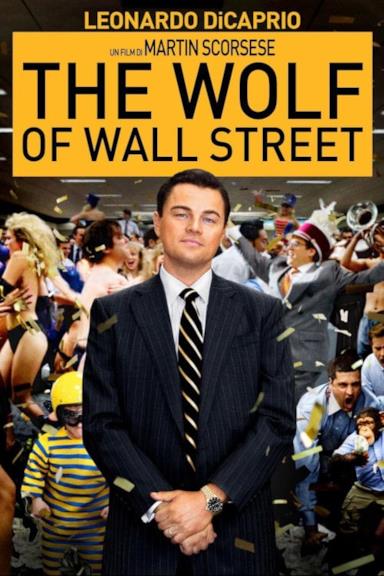 The Wolf of Wall Street
2013
Vota!
Genere: Commedia, Crime, Drammatica
Durata: 180 min
Regia: Martin Scorsese
Sceneggiatura: Terence Winter, Jordan Belfort
Produttori esecutivi: Georgia Kacandes, Irwin Winkler, Rick Yorn, Danny Dimbort, Alexandra Milchan
Produttori: Martin Scorsese, Leonardo DiCaprio, Emma Tillinger Koskoff, Riza Aziz, Joey McFarland
Fotografia: Rodrigo Prieto
Montaggio: Thelma Schoonmaker
Effetti speciali: Richard Stutsman, R. Bruce Steinheimer, Chuck Khoury, Joe Montenegro, Andrew Mortelliti
Musica: Randall Poster, Jennifer Dunnington, Meghan Currier
Scenografia: Bob Shaw
Costumi: Sandy Powell, Christopher Peterson
Trucco: Sian Grigg, Francesca Buccellato, Jill Astmann, Mary Anne Spano
Case di produzione: EMJAG Productions, Carrie Fisher, Red Granite Pictures, Richard LeGrand Jr., Sikelia Productions, Paramount Home Entertainment
Sinossi
Basato su una storia vera, The Wolf of Wall Street segue l'impressionante ascesa e la caduta di Jordan Belfort (interpretato dal tre volte candidato all'Academy Award® Leonardo DiCaprio), il broker di New York che conquista una fortuna incredibile truffando milioni di investitori. Il film segue la folle cavalcata di Belfort, un giovane "nuovo arrivato" a Wall Street che si trasforma via via in un corrotto manipolatore dei mercati e in un cowboy della Borsa. Avendo conquistato rapidamente una ricchezza enorme, Jordan la utilizza per comprarsi un'infinita gamma di afrodisiaci: donne, cocaina, automobili, la moglie supermodella e una vita leggendaria fatta di aspirazioni e acquisti senza limiti. Ma mentre la società di Belfort, la Stratton Oakmont, è sulla cresta dell'onda e sguazza nella gratificazione edonistica più estrema, la SEC e l'FBI tengono d'occhio il suo impero contrassegnato dagli eccessi.
NoSpoiler seleziona in modo indipendente i gadget e servizi che ti proponiamo in queste pagine e potrebbe ricevere una piccola quota (senza costi aggiuntivi per te) nel caso di acquisto tramite i link proposti.